Shareholder information
Find out all about our general meetings, shareholding structure, key figures per share, notifications, and more. It's a full plate, but worth the read.
Other legal information
The financial service for the What's Cooking Group stock is insured by the bank BNP Paribas Fortis which is System Paying Agent and only paying agent.
Investor Relations contact:

Yves Regniers, CFO

Tel: +32 9 370 12 19
Shareholder structure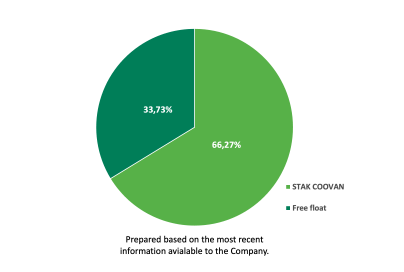 Your personal data will be processed for the purpose of organising the general meeting as set out in the privacy statement on the processing of data in connection with general meetings of shareholders on our website.
Privacy Statement
Capital and other shares per 06/07/2023
Total capital: EUR 5.252.436,10
Total number of shares with voting rights: 1.856.180
Total number of voting rights (=denominator): 1.856.180
There are no voting rights, potential or otherwise, arising from rights on and obligation to register for or acquire securities issued or to be issued.
There are no statutory thresholds.
Key figures per share 2022
Number of shares entitled to dividend: 1.821.006

Share value (average of December in EUR): 87,82

Number of shares traded per day: 291

Net Optional Dividend (EUR): 2,80